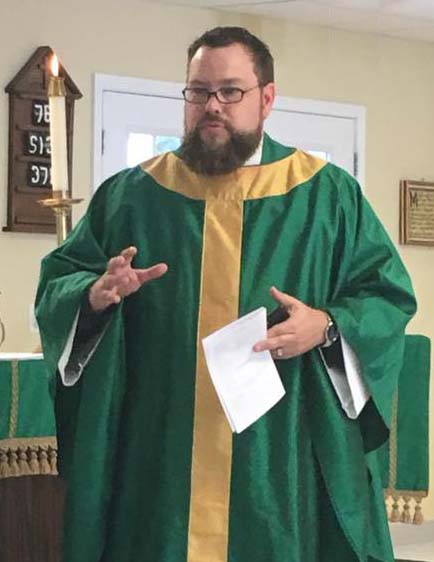 Fr. David Wesley Lemburg has been an active member in the Episcopal church since he was three years old. He served St. Paul's, Fayetteville as a choir member, acolyte, verger, altar guild, Eucharistic visitor, lector, and Eucharistic minister, before receiving ordination to the diaconate in 2004 and priesthood in 2005.
Fr. David has a Bachelor's of Arts in English from the University of Arkansas at Fayetteville. He has a Master's in Divinity from The General Theological Seminary of the Episcopal Church, NYC.  He has served in Crystal Springs and McComb, Mississippi, been a Chaplain for retired military, served in churches in New York, Western Louisana and Hawai'i.  He has done continuing education in small church ministry, healthcare, and Hospice ministries.
He is married to the Rev. Melanie Lemburg (née Dickson.)  She is the Rector of St. Thomas in Savannah, Georgia. They met and fell in love in seminary in 2001. They have two children: Mary Margaret, (b. 2004) and Jack, (b. 2008).
Teaching individuals or small groups and presiding over the religious rites of the Christian church are among his favorite activities.  He actively enjoys church, worship, and liturgy.  In his off hours, Fr. David likes to read, watch sci-fi fantasy or action films and play chess.
He was born in Houston, Texas and raised in Fayetteville, Arkansas. He is a U.S. Navy Veteran, serving the USS BOXER LHD-4 in the mid-90's, doing Intelligence work.